Heyday Canning Co.
Heyday Canning Co. - Enchilada Black Beans
Regular Price

$ 5.50
Sale Price

$ 5.50

Regular Price
Unit Price

Translation missing: en.general.accessibility.unit_price_separator
These full-of-spice-but-not-spicy black beans get their savory flavor from a blend of dried chilis, tomato paste, apple cider vinegar, and spices. Perfect for making veggie enchiladas and so much more.
This is a truly next level Heyday breakfast if there ever was one. Perfect for hungover mornings, not hungover mornings, or really anytime on any type of day. Our Enchilada Black Beans are rolled up with quick pickled red onions, creamy feta spread, and soft scrambled eggs and then pan-fried to crispy, golden-brown perfection. 


QUICK PICKLE ONIONS
Thinly slice 1⁄2 red onion and place in a small bowl.
Add lime juice and salt, and stir to combine.
Refrigerate for at least 30 minutes or up to 1 week.
BAKE TORTILLA CHIP
Preheat oven to 375°F and line a baking sheet with parchment paper or aluminum foil.
Place corn tortilla on baking sheet, drizzle with olive oil and sprinkle with salt.
Bake until the tortilla is crispy, golden brown and glistening, about 15-18 minutes. Let cool.
MAKE FETA SPREAD
Add feta, lime zest and cilantro to a small bowl. Using a fork, smash everything together until mixture is creamy and spreadable.
Gently spread all of the feta onto the cooled corn tortilla chip, then carefully snap the chip in half. Set both halves aside.
SCRAMBLE EGGS
Crack eggs into a small bowl and whisk together for 1 minute.
Set a small skillet over low heat and add butter.
Once the butter melts, add eggs and use a spatula to push them from the edge of the pan to the center, creating ribbons of cooked egg.
Turn off heat once eggs look mostly cooked but still slightly wet, about 45 seconds. Set aside.
ASSEMBLE WRAPS
Working on a plate or cutting board, spoon half of the warm beans onto 1 flour tortilla, spreading them across the half closest to you and leaving an inch around the tortilla's perimeter.
Stack half of the eggs on top of the beans, then place 1 corn tortilla half, feta side up, on top of the eggs. Scatter 2 tablespoons of the pickled onions over the feta.
Start rolling up the wrap by folding the left and right sides of the tortilla up over the filling. Then, pinch the edge of the tortilla closest to you up over the filling and start rolling away from you, tucking all sides together as you do.
Repeat with second flour tortilla and remaining ingredients.
In the same skillet you scrambled the eggs in, add butter and melt over medium-high heat.
Once butter starts sizzling, lay both wraps, seam side down, in the hot skillet.
Sear until you hear sizzling, then use a spatula to check that the bottoms are very crispy and a deep golden brown color. Flip both wraps and cook until the other side looks the same.
Slice in half or bite right in!
INGREDIENTS
 Black Beans (Water, Black Beans), Vegetable Broth [Water, (Onions, Leeks, Water, Celeriac, Celery, Carrots, Tomatoes, Potatoes, Parsley, Garlic, Bay Leaves, Rosemary), Sea Salt, Yeast Extract, Tomato Paste, Thyme], Tomato Paste, Apple Cider Vinegar, Sunflower Oil, Dried Guajillo Chile Peppers, Sea Salt, Dried New Mexico Chile Peppers, Dried Ancho Chile Peppers, Organic Garlic, Spices, Non-GMO Corn Starch, Organic Garlic Powder, Onion Powder and Cacao Powder.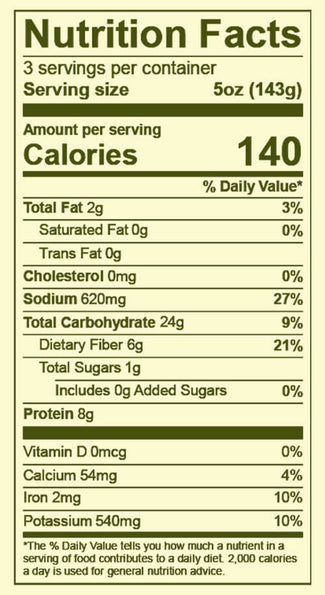 Shipping
Please allow 1-3 days to process an order, but if needed quicker, email before placing the order to confirm. Do not email after placing the order. We are a small company and do the best we can to ship in a timely manner. Please keep in mind that USPS shipping time-frames are not included in our stated processing time. Upstate Stock is not responsible for any packages lost or stolen that have been marked DELIVERED by USPS.
International Orders
All international deliveries are subject to the specific duties & taxes of the country they are being shipped to. Upstate Stock is not responsible for those charges & all purchasers should be aware of their countries regulations & fees. We look forward to the day in which we can cover these costs for our customers but we can not thank you enough for your patience & support until we reach that point.
Upstate Stock is not responsible for any lost shipments due to lack of duties paid, incorrect shipping information provided by the customer or missed delivery. Make sure to track your package if it is being held for duties.
We also would like to point out that USPS First Class International Mail DOES NOT include tracking once it leaves the USA. Use the same tracking number to track it in the receiving countries post. ie. put the USPS tracking in to LE POST tracking online if going to France.
Thank you for understanding. If you have a specific question or just want to say hello, feel free to click here we will get back to you as soon as possible.
Returns and Exchanges
Full returns on all gloves and hats. For exchanges, the customer is responsible for return postage. For returns, the customer is responsible for return postage and return will not include original postage. Must be in re-sellable condition with original tags. All other Upstate Stock products are exchange only. All sale non-Upstate Stock labeled products
are FINAL SALE.
PLEASE SHIP RETURNS TO
Upstate Stock: Office
37 Greenpoint Ave.
Brooklyn, NY 11222