Heyday Canning Co.
Heyday Canning Co. - Kimchi Sesame Navy Beans
Regular Price

$ 5.50
Sale Price

$ 5.50

Regular Price
Unit Price

Translation missing: en.general.accessibility.unit_price_separator
This recipe is a celebration of the bold (and addictively delicious) flavors of Korean cooking. Kimchi, sweet and spicy gochujang, and toasted sesame join forces to jazz up the humble navy bean.
Kimchi and cheese is a dynamite combination – rich, melty cheese balances out spicy, tangy kimchi to create a category of classic comfort food that's all its own. Here, Kimchi Sesame Navy Beans take center stage in a hearty, fork-and-knife sandwich that's a perfect quick meal on a cool day.
Ideally use a rustic, sourdough loaf and slice it yourself, about 3/4-inch thick. Commercial sandwich bread might be too sweet and a bit too thin to support the toppings.
Packaged pre-shredded cheese won't melt as nicely as freshly grated, due to the caking agent it contains.
Most US grocery stores now carry kimchi, either in the deli aisle or produce section, and your local asian or Korean market will definitely have it. If you follow a vegetarian diet, make sure to seek out a vegan kimchi, as many brands contain fish products. If you don't have kimchi, see the variation below using fresh green cabbage instead.
INSTRUCTIONS
Preheat the broiler to its high heat setting. Line a baking sheet with aluminum foil.
While the broiler preheats, place a medium skillet over medium heat, and when hot add the oil. Swirl to coat, then add the kimchi and scallion and cook until the kimchi is very lightly browned. Stir in the beans and bring the liquid to a simmer, then reduce the heat to low and keep warm.
Arrange the slices of bread over the prepared baking sheet in a single layer and then place under the broiler. Toast the bread until lightly browned, which will take anywhere from 2 to 5 minutes depending on the strength of your broiler. Remove from the oven and carefully flip the bread slices over so that their toasted slides are face down. 
Spread the mayonnaise thinly over each slice, if using, then divide the bean-kimchi mixture on top, spreading it in an even layer. Lastly, top with the shredded cheese. Return to the broiler and cook for 1 to 2 minutes more, until the cheese is melted, bronzed, and even a bit blistered. 
Serve immediately, garnished with the sesame seeds.
INGREDIENTS
Navy Beans (Water, Navy Beans), Water, Vegan Kimchi (Napa Cabbage, Chile Pepper, Carrot, Garlic, Green Onion, Cane Sugar, Onions, Sea Salt, Ginger), Rice Vinegar, Gochujang (Tapioca Syrup, Water, Brown Rice, Red Pepper Powder, Salt, Alcohol, Soybean, Garlic, Onion), Sunflower Oil, Maple Syrup, Ginger, Organic Garlic, Toasted Sesame Oil, Sesame Seeds, Sea Salt and Non-GMO Corn Starch.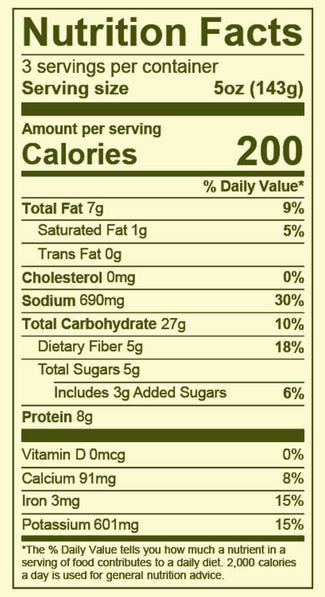 Shipping
Please allow 1-3 days to process an order, but if needed quicker, email before placing the order to confirm. Do not email after placing the order. We are a small company and do the best we can to ship in a timely manner. Please keep in mind that USPS shipping time-frames are not included in our stated processing time. Upstate Stock is not responsible for any packages lost or stolen that have been marked DELIVERED by USPS.
International Orders
All international deliveries are subject to the specific duties & taxes of the country they are being shipped to. Upstate Stock is not responsible for those charges & all purchasers should be aware of their countries regulations & fees. We look forward to the day in which we can cover these costs for our customers but we can not thank you enough for your patience & support until we reach that point.
Upstate Stock is not responsible for any lost shipments due to lack of duties paid, incorrect shipping information provided by the customer or missed delivery. Make sure to track your package if it is being held for duties.
We also would like to point out that USPS First Class International Mail DOES NOT include tracking once it leaves the USA. Use the same tracking number to track it in the receiving countries post. ie. put the USPS tracking in to LE POST tracking online if going to France.
Thank you for understanding. If you have a specific question or just want to say hello, feel free to click here we will get back to you as soon as possible.
Returns and Exchanges
Full returns on all gloves and hats. For exchanges, the customer is responsible for return postage. For returns, the customer is responsible for return postage and return will not include original postage. Must be in re-sellable condition with original tags. All other Upstate Stock products are exchange only. All sale non-Upstate Stock labeled products
are FINAL SALE.
PLEASE SHIP RETURNS TO
Upstate Stock: Office
37 Greenpoint Ave.
Brooklyn, NY 11222